Read, Rhyme, Repeat
Read, Rhyme, Repeat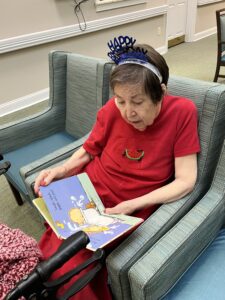 As many of you know or have read, my mother has dementia.  She lives in a memory care facility, where she is usually happy and cared for by kind, nurturing people.  Even so, I always have to adjust my mindset before walking in.  I like to think of things to talk about and often bring Mama something that I think she will like.  The best advice I've gotten is to travel with Mama where she wants to go, in her mind, and, physically, to the degree that I can.
On this occasion, I went to visit Mama after school.  I was a bit tired from a day of teaching and tentative, as my last visit had been tough.  On the visit before, it had been close to Halloween, Mama's favorite holiday, and I had brought a flashing jack-o-lantern necklace, which she normally would have loved, and a package of Halloween-themed Peeps, a favorite treat of hers.  But Mama did not love these offerings.
She came in from the beauty shop after I'd been waiting for just a few minutes, and I could hear her as she approached, saying, "It's bad."  When I saw Mama, I recognized what the trouble was.  Her hair, though carefully styled, had been fashioned into a firmly-set helmet of curls, which was not the way she liked it.  She did not hide her displeasure.  Mama did gobble up a Peep, but when I gave her the necklace, she said, "It's bad.  Take it away."  I put it out of sight and tried to talk to her a little, but soon Mama turned to me and said, "Leave."  This took the breath out of me.  She had never told me to leave before and, of course, it hurt my feelings.  Still stunned, I asked, "Do you want me to go?"  Mama said, "Yes, go!  You're bad."  I could feel the tears well up, and I told her I'd see her next time.  On the way to my car, I started to see the humor in Mama's reaction, which evoked memories of my sons as toddlers when they were hungry, tired, or just plain having a fit, and nothing could make them happy.
When I came in the next time, Mama was wearing a "Happy Birthday" headband.  It was not her birthday, but she always has loved a party or celebration.  I had decided against bringing any gifts this time and hoped that she wouldn't be disappointed.  Mama picked up a book, the title of which I don't remember, but it was a children's book. We sat down in the day room together, and Mama asked me to read it to her.  It was a bedtime story that rhymed and led us through all of the routines of taking a bath, putting on pajamas, reading a story, and saying goodnight.  When I finished reading it, Mama asked me to read it again.  This went on two or three times.  For that space in time, everything melted away, except our togetherness, the predictable words, and the soothing rhythm.  Then, Mama wanted to read the book to me.  She said, "This is the kind of story we always used to read," and she began the first of several times reading the book to me.  The tears came quickly as I was enveloped in the familiar, loving ritual that I've shared with my mother all my life.  Sometimes she involuntarily repeated words or phrases, but the words flowed with ease, and she read with confidence and calm.
My mind traveled to one of my very first favorite books, Mommy, Buy Me a China Doll by Harve and Margot Zemach.  The story has all of the elements that young children enjoy, rhythm, rhyme, and repetition and, of course, a subject of interest, which, for me, was dolls.  I was a little girl who loved baby dolls and always asked for one for Christmas.  The story is playful with the repeated request, "Mommy, buy me a china doll.  Do, Mommy, do."  The mother replies, "What could we buy it with, Eliza Lou?"  Then the story goes on to describe the different scenarios that would make the buying of this doll possible.  As a parent, I can see how this story could be considered glamorized begging and the wearing down of a weary parent but, as a little girl, I could picture myself as Eliza Lou in a playful, loving banter with my mother.
I remember Mama reading this story to me over and over again.  I don't remember her saying "no" when I asked, and I don't think she did.  Books and reading were limitless.  I know now that Mama had to have been tired and probably wanted to do something else, at least some of those times, but it never showed then.  She just read and read about ". . . Eliza on her Mommy's lap, Sleeping on her Mommy's lap, Dreaming 'bout a china doll, Sleep, Eliza Lou."